Nation Star Locksmith - Locksmith Westwood NJ
Do you need the best locksmith lock services near me ? If you are having lock-related (or other security-related) problems at home, at the office or in the car, we are the ones to solve them. You can trust our professional team to get to you, as well as always to restore the security to your property in no time. Broken locks, lost transponder key, or malfunctioning security cameras system is not a problem anymore. At Nation Star Locksmith, we are the ones to offer top-tier solutions while keeping a bargain pricing. Our whole team is fully certified, and we have the best customer service. We can also get to you whenever needed. Contact us right now or check the pricing for the services on our website here - it's free of charge and so convenient!
What's a Locksmith?
By definition, a locksmith is a person who is specialized for a lock change, lock installation, as well as repairs and updates. Locksmiths have a long tradition since the appearance of the first locks in the world. However, the locks, as well as the overall security systems, have been changing over time. Nowadays, a simple lock is not the only thing that keeps your property secure. Some facilities need "extra help" when it comes to safety, such as security cameras, or unique access control systems. When it comes to installing and maintaining these new systems, locksmiths are also the ones you can call. That's why at Locksmith Westwood, we do all of the above. You can contact us if your lock or keys are broken or lost, or if you got locked keys in car; if your telephone system is malfunctioning or if you can't seem to open your garage door. We are here to bring back the safety to your property in many different ways, some of them being: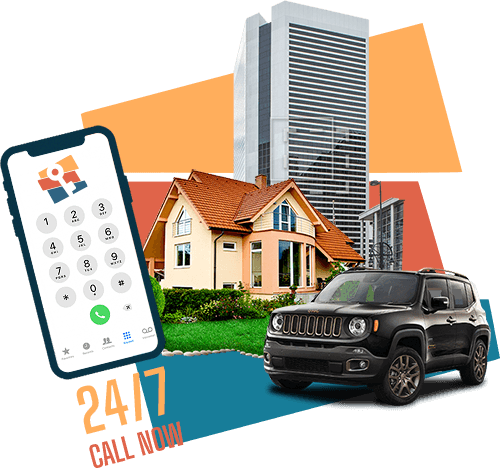 Lock installation/replacement/update/repair - Locks can differ based on their location and purpose. That's why we have residential locks or commercial locks, as well as automotive locksmith. There are also deadbolt locks, mortise lock, combination lock, keypad lock, magnetic door lock, sliding glass door lock, etc. Each of them needs different treatment since they are different in style, sturdiness, and other performances. Our technicians can easily install, repair, or change locks, whatever kind they may be.
Manufacturing keys/transponder keys - Since you can also have issues with the keys such as losing them or breaking them (whether it's a regular house key or, for example, a transponder key), our locksmiths come into action. We perform key cutting, as well as reprogramming or replacing transponder keys.
Rekey locks services - Many business owners or landlords need to change locks often, but as lock change might be too much of an expense all the time, rekeying is a simpler, yet more affordable way to unlock your door with a new set of keys.
Master lock systems - Access control can be a step up for your company's security. If you want the maximum safety for your facility, the master keying system is the perfect solution. You can control access to different areas however you want and have as many keys as you wish.
Lock out service - Lockouts can happen to anyone, at any time, unfortunately. You can lock yourself out of your property, or in the case of your vehicle, you can have a frozen car door in the winter and not be able to open it any cost. Fortunately, our locksmiths are ready to help you out and get you out of the inconvenient situation very fast.
Garage door repair - Your garage is considered another entrance to your property, whether it's your house or a building. We are here to check your garage door opener, as well as to do the installation, repair, and updates.
CCTV systems - If you already have a CCTV system, we are here to keep it updated, and if you want one, our team can offer the best solutions for your property, based on your needs and the requirements for space.
We cooperate with the best locksmithing companies such as Weslock, Schlage f series, Schlage replacement parts, Medeco, and Kwikset. Also, if you have more questions about our services, please feel free to ask any time. We are only a phone call away!